Volunteers Are Our Greatest Resource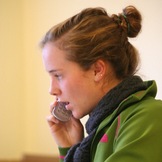 Our dedicated volunteers offer hope and encouragement to those who are experiencing crisis in their lives. We receive nearly 2,000 calls per month from people who are overwhelmed with whatever the crisis might be and in need of a warm, caring voice and a listening ear.
You Can Make a Difference
You can become a part of the vital work of the Suicide and Crisis Center. Training classes for the crisis line are offered a minimum of twice a year. The extensive training requires attendance at classes for ten consecutive weeks, one evening a week. After the training and internship is completed, volunteers are asked to commit to one 3 to 4 hour shift per week for at least six months. Shifts are available 24 hours a day!
If you are interested in volunteering to be a crisis line volunteer, please call 214.824.7020 or email us at volunteer@sccenter.org. You can also inquire about volunteer opportunities by completing and submitting the online form.