Crisis can strike any time, day or night. When feelings of hopelessness, isolation, shame, and anxiety lead people to think that suicide is their only option, they can't wait for help. They need to talk to someone at our suicide and crisis hotline...now.
24/7 Suicide & Crisis Hotline

If you are in crisis or have suicidal thoughts, please call our suicide crisis hotline at 214-828-1000. You can also text "CONNECT" to 741741 anytime to reach trained, caring volunteers at the National Crisis Text Line.
Guidelines for Media Reporting of Suicide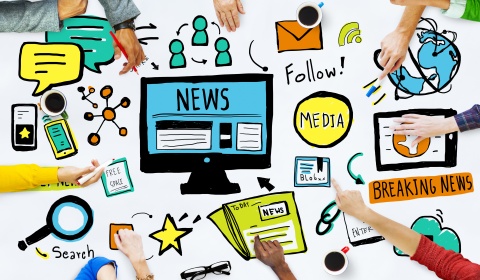 Suicide is a public health issue that should be handled with care and sensitivity when it comes to reporting by various news and media outlets. This is especially true in regard to headlines that may sensationalize or glamorize death, whether it be intentional or not. While such headlines may capture the reader's attention, an unintentional effect can be a higher risk of additional suicides. If you are a member of the media or press reporting on a suicide, please click the View Guidelines button to download best practices for reporting on this tragic public health issue.
View Guidelines
Stay In Touch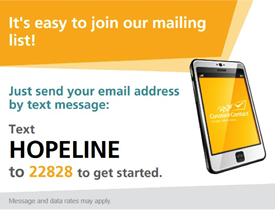 Stay in-the-know by signing up for email updates on upcoming events and important information and statistics. You will also have access to newsletters that contain stories and articles about suicide, tips on surviving (for survivors of suicide), and information about current and/or past events. You can sign up for updates by clicking on the button below or text "HOPELINE" to 22828 (message and data rates may apply).
Sign up for updates
Cabo San Lucas Getaway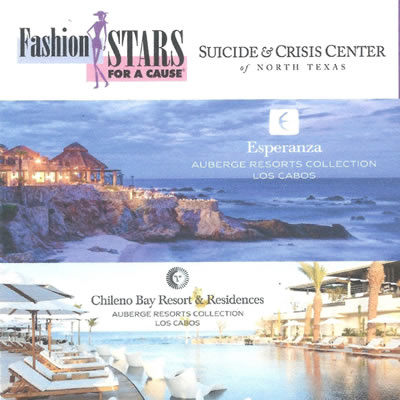 Support the 2019 Fashion Stars in raising funds to support the great programs and services of the Suicide and Crisis Center of North Texas. Purchase a raffle ticket and enter the drawing for a Cabo San Lucas Getaway for two at the Chileno Bay and Esperanza Resorts. Read more »
A Time to Live, A Time to Give!
Join the Fashion Stars on Friday, March 29, 2019 at the Dallas Country Club for our signature fundraising event. Table sponsorships, as well as advertising opportunities and donation of goods, are now available as we raise funds for programming that help those in crisis, especially suicidal crisis, find hope for the future. Read more »
Shop @ AmazonSmile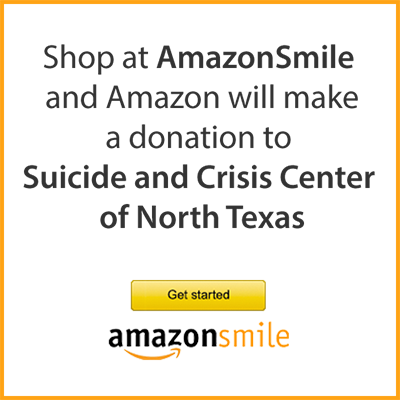 Shop at AmazonSmile and Amazon will donate 0.5% of the price of your eligible AmazonSmile purchases to Suicide and Crisis Center of North Texas whenever you shop on AmazonSmile.
Tom Thumb Good Neighbor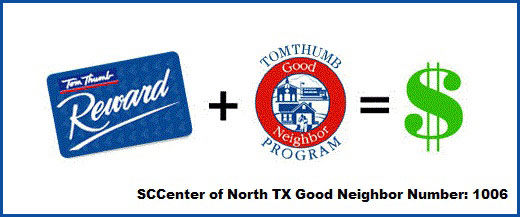 Don't forget to link our Good Neighbor Number (1006) to your Reward Card and help us raise funds the easy way!
Suicide is the 12th leading cause of death overall in Texas.
On average, one person dies by suicide every three hours in Texas.
More than twice as many people die by suicide in Texas annually than by homicide.