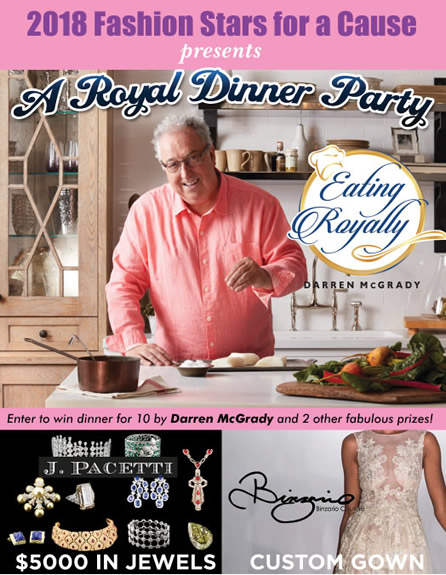 Yvonne Crum, the Gala Committee Chair, and Fashion Stars for a Cause 2018 invite you to be part of our fundraising effort by purchasing raffle tickets for $100 each or 6 for $500. There will be one drawing, and the prize includes dinner by Darren McGrady, as well as, $5,000 worth of fine jewelry from J. Pacetti, and a custom gown from Binzario Couture.
Please help us reach our goal of selling only 1,500 tickets (makes the odds really good) If we sell all 1,500 of them we will be able to fund one of the programs for the year. Raffle tickets are $100 each, or you may purchase six (6) raffle tickets for $500. Ticket stubs will be mailed to you, and the drawing will be held on March 23, 2018 (you do not have to be present to win).
Your support is so appreciated by Suicide and Crisis Center of North Texas, as well as the thousands of children and families in our community whose lives are helped by the programs of Suicide and Crisis Center of North Texas.
How to Purchase Raffle Tickets
You may purchase raffle tickets by downloading the ticket form below, and mail or email it to Yvonne Crum. The mailing address is listed on the form if you choose to mail it.
Download Raffle Ticket Form
Tickets may also be purchased securely online using one of the two buttons below.
NOTE: If you are purchasing six (6) raffle tickets the quantity will be displayed as "1" on the order form, but you will be registered for six (6) entries/raffle tickets.
About Darren McGrady
This auction item is for dinner for ten (10) people in your own home prepared by Darren McGrady, Owner of Eating Royally, Personal Chef Service, Fine Dining and Events of Dallas, Texas.
Darren McGrady was chef to Queen Elizabeth for eleven years and then spent four years as personal chef to Princess Diana, Prince William and Prince Harry. He has cooked for five US Presidents and is author of "Eating Royally, recipes and remembrances from a palace kitchen".
Darren will come to your home and prepare a THREE course dinner for 10 people consisting of "royal favorite" dishes, each with their own anecdotes. After dinner he will join you and your guests and share stories and answer questions on the fifteen years he spent with the royal family.